For the past few months, I've been obsessed with Dealspotr. DealSpotr is a mix between RetailMeNot and Reddit. The coupon site uses its members upvotes (likes) and comments to sort the coupons and deals by popularity. I'm the cheapest, least-likely to shop person in the world but even I have found deals that are too good to pass up. 50% off at Old Navy? 40% off at La Senza? No one can ever have too many staples pieces of clothing 😉
What makes Dealspotr so great though is that you earn points (karma) which add up to Amazon gift cards. I've just discovered how wonderful Amazon Wish List are (I know, I know, I'm so behind) and with Christmas coming up, it only made sense to earn as many gift cards as I could. To date I've gotten $15 worth which might not seem like a lot but, well, the points add up fast. New members get points for signing up, points for following people, points for filling out a profile, points for following stores… Pretty soon, BOOM! $5 gift card.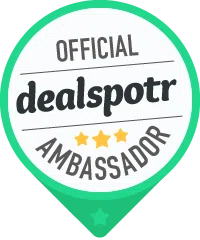 The real fun though comes when you start posting deals. Posting deals gets you 20 points for the first deal from that store and 5 points for subsequent deals. So, If you posted 10 deals from Wal-Mart each day, you'd get 65 points. When people like or comment on your deal you get 2-5 points and if your deal trends or goes viral… bonus points! You can also receive bonus points for flagging deals and for posting deals from stores which don't get enough attention (ex: Dropbox hasn't had a deal posted at all this week so there's a 200 point bonus!).
My biggest problem with Dealspotr is that, as a new company, the rules are constantly changing as things are tweaked. For a month or so we were limited to 20 votes a day which was weird, but now we can vote as much as we want. The algorithm used to determine the how popular a deal is has changed too (I think). Last month my deals were getting upvoted like crazy but now… not so much. This could also be due to the quality of my posts or to the increased number of users/posts.
The other thing that struck me as odd about Dealspotr is that although its similar to Swagbucks in that you get points and can exchange them for Amazon gift cards and can refer people for points, there isn't a MLM-style points awarding system. In Swagbucks, if you join using my link I get awarded points based on your activity as well as my own.